Great News! We've recently partnered with Patientco to provide you with simple, convenient methods to pay and manage your healthcare expenses. Creating your PatientWallet™ through Patientco is easy, convenient, and best of all, free for you. After your visit to Buckhead Internal Medicine, you'll soon receive a Patientco statement like the example you see below.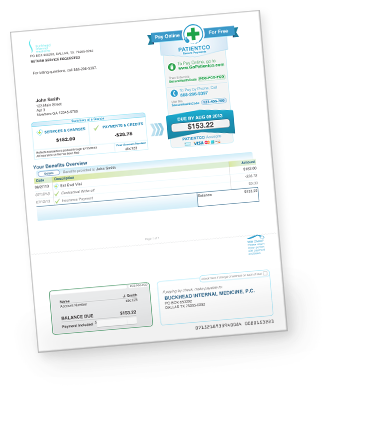 You can pay your Patientco bill in 3 easy steps! Simply go to www.GoPatientco.com, enter the 9-Digit SecureHealthCode from the upper right-hand corner of your statement, and enter your exact bill amount to log in to your PatientWallet to complete your payment.
Who is Patientco?
Patientco partners with providers like Buckhead Internal Medicine to bring you a more patient-friendly billing and payment experience. Our partnership with Patientco allows us to give you multiple simple payment options, along with bringing you the convenience of creating your PatientWallet — one location for you to view, manage, and make payments on your bills. You can also securely message us 24/7 with any questions or concerns from within your PatientWallet.